Chester Racecourse
Chester Race Fixtures
Chester Racecourse is named the 'Roodee' and is one of the oldest in the the UK. The Roodee is located immediately outside the city walls, down 'Watergate Street', easy to walk to from the city centre. You can view the whole racecourse from the city walls. This is a specialist, unique, small racecourse and extremely popular with punters in the North West.
We recommend you purchase your raceday tickets in advance for stands & enclosures. Tickets range in price from the Open Course, to The County Stand, which has views of the winning post and paddock.
Saturday 30 May 2015 - Matthew Clark Day
7 Races, first race at 13:55
Saturday 13 June 2015 - Halewood International Roman Day
Friday 26 June 2015 - Ladies Evening
Saturday 27 June 2015 - Midsummer Meeting
Friday 10 July 2015 - Ladies & Gents Evening
Saturday 11 July 2015 - City Plate Stakes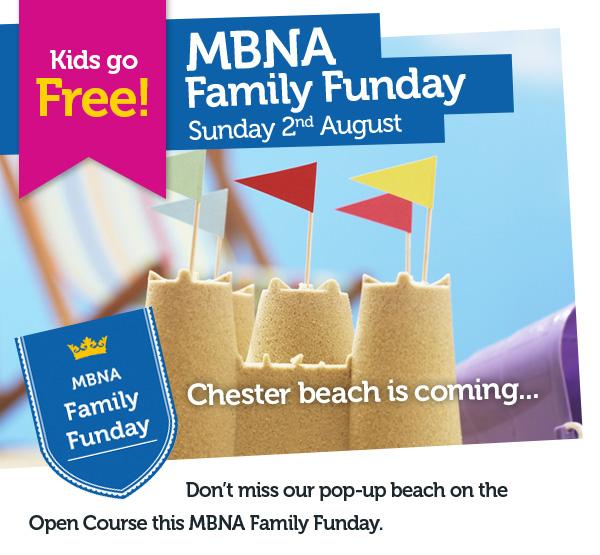 Sunday 2 August 2015 - Family Funday
First Race 14:10, Last Race 17:25
We've got plenty of free entertainment to keep the kids busy, so keep an eye out for our seaside postcard selfie props, donkey rides giant seagulls, inflatables and beach games! Alternatively, grab an ice cream, kick back in a deckchair and soak up the relaxing family atmosphere with an afternoon of competitive racing.
Pack your picnics (and beach towels), we can't wait to see you! It's the only place to be in Chester this Summer. For families and racegoers alike, it is fantastic value for a family day out. Children under 17 go free, and it's just £12 grown ups on the Open Course! Book now to avoid disappointment.
Saturday 22 August 2015 - Ladies Day
Friday 11 September 2015 - Autumn Festival
Saturday 12 September 2015 - Autumn Festival

Saturday 26 September 2015 - The final races of the year.

Coutts International Polo
Chester Racecourse Polo Club is firmly established on the British Polo circuit and is home to many premier events. In September Chester Racecourse features the Roodee Challenge Cup Tournament. Experience the glitz and glamour of polo on the picturesque Roodee, the perfect place to watch one of the worlds most exciting sports.

Restaurant 1539
The smart restaurant at Chester Racecourse! Named after the year races first started in Chester. Open all year, this modern restaurant has sweeping views over the course and outdoor decking area in the summer.
Restaurant Booking Tel: 01244 304631
Hotels Near Chester Racecourse

Holiday Inn Express Chester Racecourse

The Winning Post at Chester - QuickTime
Chester Races 2015
Please confirm race dates & times: fixtures & tickets
or call the Box Office on 01244 304610 / Mon - Fri 9am to 5pm
May Festival
Wednesday 6 May 2015 - Chester Cup Day
Thursday 7 May 2015 - Ladies Day
Friday 8 May 2015 - City Day
Box Office Tel. 01244 304 610
The Cheshire Vintage Fashion Fair
At Chester Racecourse
Sunday 26 April 2015