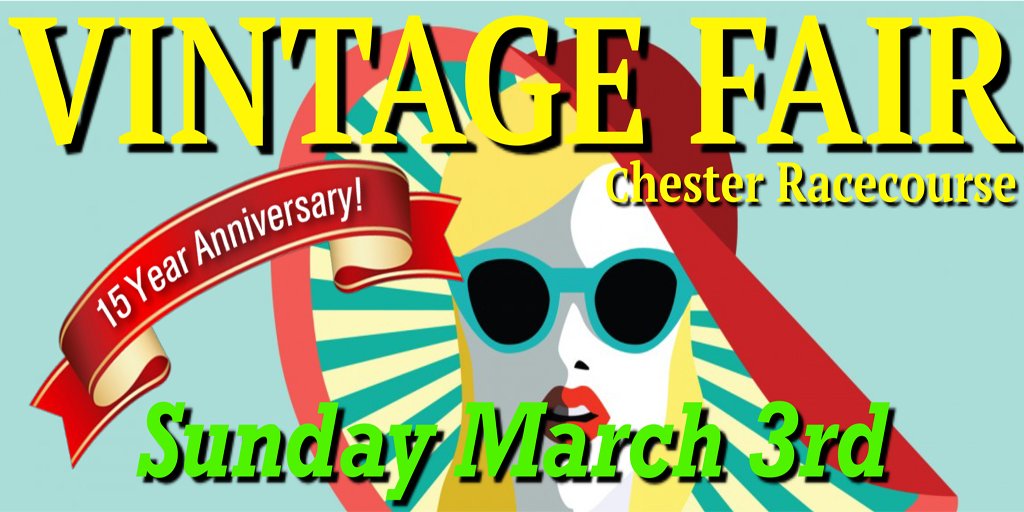 The Chester Vintage Fair
📅
Sunday 3 March 2019
Chester Racecourse
Setting the highest of standards
The Chester Vintage Fair celebrates its 15th anniversary Year this
March and for the organisers marks a real sense of pride from its very first staging way back in 2004,
It is really no surprise that this event has become recognised as the North of Englandís premier Vintage Fair event
The fair began way before the word Vintage ever became cool and as such has become a real Mecca for vintage enthusiasts looking for period clothing, Jewellery, Textiles and Haberdashery,
The traders who have signed up for the event are coming from all over the UK and France! too exhibit and they are extremely passionate and knowledgeable about the items they offer for sale,
All in all make sure you donít miss this fantastic biannual fair to complete your wardrobe or simply discover a Vintage classic to add too it !
Put the date into your diary and head down to The 15th anniversary of The Chester Vintage Fair, on Sunday March 3rd for a timeless event that never gets old.
The Pavilion, Chester Racecourse, CH1 2LY
CamperFest 2019
📅
Thursday 18 - Monday 22 April 2019
Chester Racecourse
CamperFest, now in its 9th year, is a great Easter camping weekend in city of Chester and runs alongside the Chester Food and Drink Festival, located right in the heart of Chester, on the beautiful Chester Racecourse.
camperfest.co.uk
★
Chester Races
May Festival 8, 9, 10 May 2019
Roman Day 25 May 2019
Summer Saturday 15 June 2019
Tickets 01244 304 610 or www.chester-races.co.uk
Nearest Accommodation:
Holiday Inn Express Chester Racecourse