A Midsummer Night's Dream
Julius Caesar
Alice in Wonderland
The Beggar's Opera
New Opening shows for Storyhouse! Summer 2017
11 May - 27 August 2017
The shows will be performed in rep by a company of 26 of the country's finest actors, and for the first time you will be able to choose between the new
Storyhouse Stage
, or the award-winning
Grosvenor Park Open Air Theatre
.
Online booking opens Monday 24 October 2016 at 12pm!
Grosvenor Park Open Air Theatre 2016
Friday 1 July - Sunday 21 August 2016
Grosvenor Park Open Air Theatre returns for another raucous summer! We are absolutely delighted to announce that we have secured the rights to one of the century's best-selling and enduring children's classics, Clive King's
Stig of the Dump
– the wonderful tale of the lovably time-shifting Neanderthal. This is brought to you by the same team as the sell-out hits The Wind in the Willows and The Secret Garden.
The classic and massively popular
As You Like It
is our headline Shakespeare for the season, with the bard's ridiculous
The Two Gentleman of Verona
completing the line - that's three comedies, although only one with a caveman...
We welcomed nearly 26,000 customers last year, many of them our friends and returning regulars. If you've been before, we'd love to see you again. If not, come and find out what you are missing. Regulars will know that prices rise with demand and as shows sell out, so the best way to bag a bargain is definitely to book now! Under 12s are Free with an adult.
Map
|
Theatre In Chester
---
(above 2015) - Grosvenor Park Open Air Theatre, the finest open air theatre experience outside London. Romeo and Juliet, The Merry Wives of Windsor and a new adaptation of children's classic The Wind in the Willows.
---
(Above 2013)
Tickets On Sale Here
grosvenorparkopenairtheatre.co.uk
---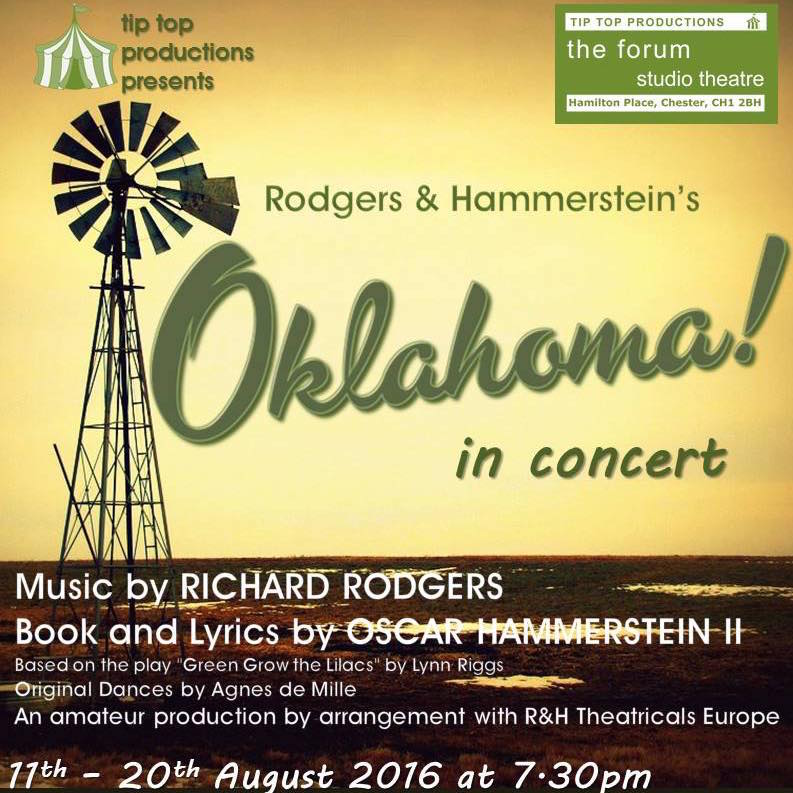 Oklahoma!
Forum Studio Theatre, Chester
11 - 20 August 2016