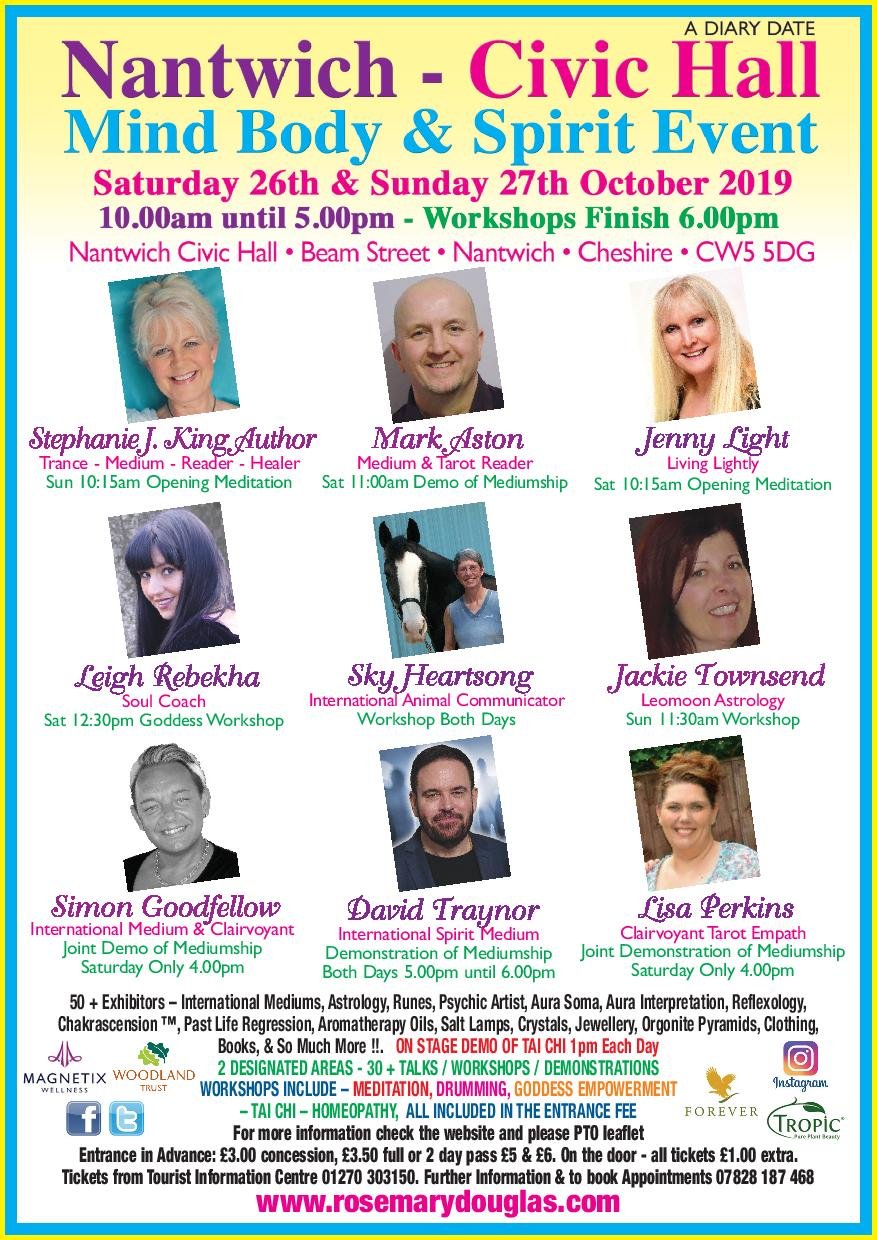 Nantwich Civic Hall Mind Body & Spirit Event
📅
Saturday 26 - Sunday 27 October 2019
Nantwich Civic Hall
Doors Open 10am until 6pm 50 + Exhibitors , Retailers, International Healers & International Mediums such as Simon Goodfellow, David Traynor, Stephanie J. King, Mark Aston, Leigh Rebekha, Shirley Rose, Annette Bradbury, Angela Welsh, Michelle Whyatt, Lisa Perkins also Jackie Townsend from Leomoon Astrology will be providing astrological forecasts, whilst Alison Dean will be available for Specialist Rune Readings, Kaye Anne Law Psychic Artist is available for that psychic portrait too and reading that you maybe interested in having, she will also be displaying her other spiritual art. Kevin Doe will be on hand with his delightful aura interpretation so you can have your aura picture taken and a reading to further explain this to you. Or you may enjoy an aura soma consultation bringing that colour enhancement into your life.

We have many healers including international healer Irma Ziolkowska providing Crystal bed healing, Janet Farnell Psychic Surgeon & Sound Healer also we have we a Shamanic Healer , Reiki Healer, and reflexologists applying traditional reflexology to the feet, hands and face, we also have Indian Head Massage. John Richardson hypnotherapist and past life regression therapist will also be available for sessions too and others.
An Excellent Array Of Retailers fairyland aromatics with a fantastic range of oils, incense burners, incense sundries, an extensive range of crystals some really unique ones, gemstone jewellery and gemstone carvings also magnetix wellness jewellery too, we have soul sisters selling beautiful cultural items wall hangings and many other unique products, also beautiful designer Italian clothing, health products such as aloe vera, tropic beauty products , Doterra, bespoke made orgonite pyramids, salt lamps, selenite lamps, incense, & lots of other unusual products, which make brilliant gifts, including meet the creator the artist whose inspiration for his Sacred Geometry models is drawn directly from the likes of Hermeticism and Platonism to name but a few Sean from reality woven will be delighted to talk to you about his inspirational concepts and so much more.
30 + Workshops Talks & Demonstrations of Mediumship as listed below all included in the entrance fee, you can start your day with Meditation , or Laughter Yoga both excellent for Mind Body & Spirit design your day around the itinerary. There is an excellent in-house cafe too.
★ Full details at
rosemarydouglas.com