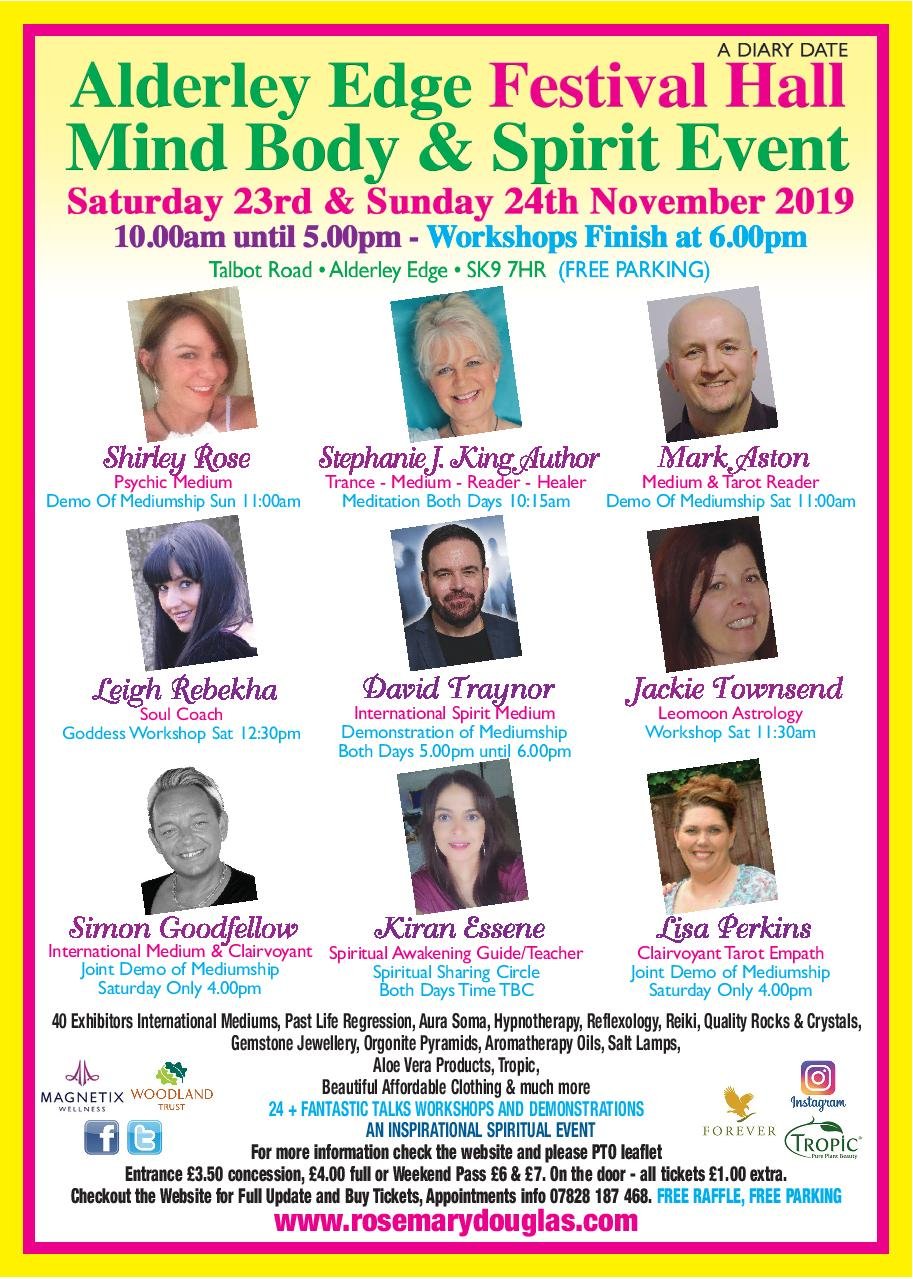 Alderley Edge Festival Mind Body & Spirit Event
📅
Saturday 23 - Sunday 24 November 2019
Talbot Road Alderley Edge SK9 7HR
Enjoy Enjoy Enjoy
♥ Talks & Workshops To Inspire & Guide You Up Stairs Only ♥ What's On The Belmont Suite – Saturday 23rd Nov 2019
• 10:15am – ♥ Opening Meditation Saturday Forgiveness Meditation ♥ – Sitting comfortably, with eyes closed, breath gently and sense again all the barriers you have erected and the emotions you have carried because you struggled to forgive; yourself or others. Stephanie J. King Soulpreneur / Author / Healer / Trance Medium Reader
• 11:00am – Demonstration of Mediumship with Mark Aston Bringing Loved ones Through With compassion They Never Say Goodbye
• 11:30am – Leo Moon Astrology – Join Jackie Townsend From Leo Moon Astrology & discover how to work with the energy of the Astrological cycles of the New Moon to manifest your hopes, dreams and wishes.
• 12:30pm – Join Leigh Rebekha A Journey of Self Love and Authenticity of self discovery, finding tips for your toolbox in order to find your authenticity, being true to yourself, forgiving past life patterns and DNA transference all encompassed with self love in mind. You'll feel uplifted and ready to walk your true path
• 1:15pm – Learn More About Past Life Regression & Spiritual Connections Including John's Fascinating Demonstration Showing You Why Hypnosis Is Nothing To Fear,John Richardson. Has Been A Professional Stage and Clinical Hypnotherapist For Many Years and His Talks and Demonstrations are Packed With Information and Fun… Yes Fun You Will Soon See The Benefits of Hypnosis and How Hypnotherapy Can Help You …Yes YOU!!
• 2:00pm- Christopher Gilmore MEDITATION AS MEDICINE - D.I.Y. Divinity Mind, Body, Spirit? How harmonious do we keep these three nourishing ingredients? If not, how do we restore balance at all levels of love and service to the greatest good? Is not the universe our Cosmic Classroom?
• 3:00pm – Dawn Murray – Alchemy of Emotions for Ease & Grace Learn about the emotional benefits of essential oils and the importance of purity and potency. Dawn will also be sharing with you, how to create and use emotional blends for 'Ease & Grace', incorporating them into daily practices of affirmations, journaling, meditation and emotional exercises to support emotional well-being.
• 4:00pm – ♥ A dazzling joint demonstration of mediumship with Simon Goodfellow & Lisa Perkins this is not to be missed ♥
• 5:00pm – ♥ Come see this entertaining Spirit Medium David Traynor whose accurate demonstration of clairvoyance combines Spirit Communication, over-shadowment and Psychic Art with humour and compassion. A great upliftment to end your Alderley Edge Mind Body Spirit Experience ♥
♥Talks & Workshops To Inspire & Guide You Up Stairs Only ♥ What's On The Regal Room – Saturday 23rd Nov 2019
• 11:00am – Laughter Yoga It's Great, It Is Just So So Good For You. If you Have Not Joined This Before Do, If You Have You Will Be Addicted, It's Just So Good For your Immune System So Top Up Here Today With Veerji Hasyananda
• 12:00noon – "Allow Sophie Fox from Angelic Energies to guide you to your next lifetime with Future Life Progression. Discover the many benefits of seeing the future as well as learning the power of affirmations and finding out about Angel Guide Sessions."
• 12:30pm – "Hoodoo Myth and Magick: A look into the American folk magick Hoodoo, it's misconceptions and magickal practice".
• 1:00pm – Find your soul's purpose with Aura Soma consultant Susan Bailey
• 12:30pm TBC
• 2:00pm – Spiritual Self-Healing Techniques that are simple and effective for anyone to practice. This is one of our most popular spiritual workshop topics that we have presented internationally and has helped many. You can see some of our published articles here: https://www.spiritualresearchfoundation.org/spiritual-healing/self-healing/
• 3:00pm – Kiran Essene Spiritual Spiritual Awakening The consciousness evolution of humanity, why this is taking place? & How will this transform your life
♥ Talks & Workshops To Inspire & Guide You Up Stairs Only ♥ What's On The Belmont Suite – Sunday 24th Nov 2019
• 10:15am – ♥Opening Meditation♥ – Angels continuously function by your side, protecting, guiding, interacting and uplifting… Many more come forward to assist with daily tasks, depending on live focus and intention. Nothing is beyond your capability. Nothing holds you back. I will guide you further into this world to connect better with those working with you…Stephanie J. King Soulpreneur / Author / Healer / Trance Medium / Reader
• 11:00am – Join Shirley Rose Demonstration of Mediumship Connecting With Loved Ones Bringing messages From Loved ones With Compassion.
• 11:30am – Find your soul's purpose with Aura Soma consultant Susan Bailey
• 12:15pm – TBC
• 1:00pm – Join Dawn Murray – New You; Natural Solutions for Healthy Empowered Living! Come and join us for this fun-filled workshop where we will take you on a journey into natural solutions to health and wellness as we explore aromatherapy and the power