The Brindley - Latest Brochure
Winter 2018/2019
(pdf)
Cheshire's Award Winning Theatre and Arts Centre.
The Brindley, High Street, Runcorn, Cheshire, WA7 1BG
Box Office Tel. 0151 907 8360
★
thebrindley.org.uk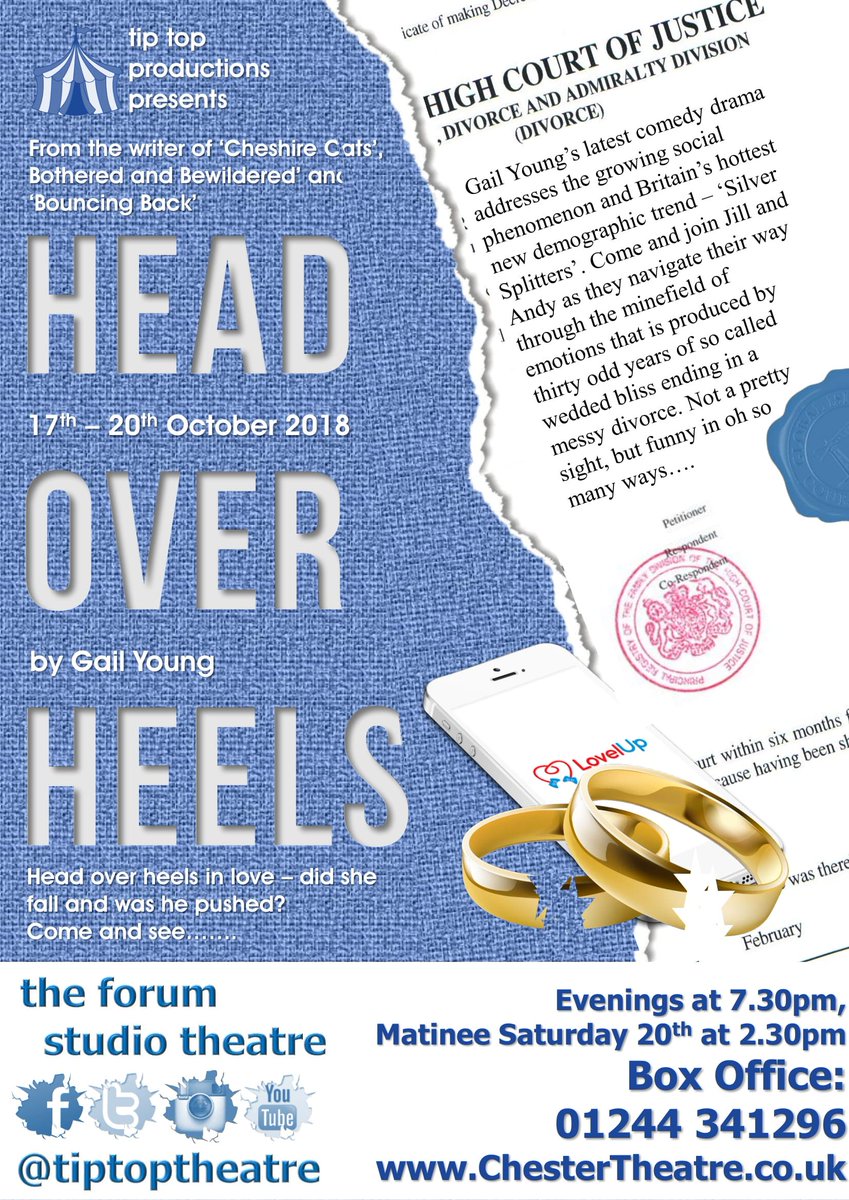 Head Over Heels
📅
Wednesday 17 - Saturday 20 October 2018
Forum Studio Theatre, CH1 2BH
Gail Young's latest comedy drama addresses the growing social phenomenon known as 'Silver Splitters'. Aged 60 plus, grey haired (mostly but not all!), stressed, but free! They are Britain's hottest new demographic trend - retired divorcees. Come and join Jill and Andy as they navigate their way through the minefield of emotions produced by thirty odd years of so called wedded bliss ending in divorce. Not a pretty sight, but funny in oh so many ways............
'Head over Heels in love - did she fall and was he pushed? Come and see...... '
Joseph And The Amazing Technicolour Dreamcoat
📅
Thursday 25 - Saturday 27 October 2018
Grange Theatre In Hartford
Mid Cheshire Youth Theatre's next production which is Joseph and the Amazing Technicolour Dreamcoat which is being performed next week (25-27th October at 7.30pm) at the Grange Theatre in Hartford.
Tickets
October Half-Term Activities
📅
27 October - Sunday 4 November 2018
Storyhouse Chester 2018
Storyhouse will be filled with activities this October half-term Saturday
Prices vary, with many free arts, crafts and workshops to get involved with. Check individual events for details.
♫ Storyhouse is Chester's brand new cultural centre: theatre, cinema, library, studio theatre, restaurant, and bar housed in a rejuvenated 1930s art deco Odeon cinema.
www.storyhouse.com
Alice In Wonderland - Family Ballet
📅
Saturday 27 October 2018
Forum Studio Theatre, CH1 2BH
Alice in Wonderland A fantastical new ballet for the whole family! After their sell our shows here in February, Let's All Dance returns with this fabulous family favourite. Stunning dancing, much loved characters and super costumes bring the famous tale to life in this magical ballet production. Don't be late for this very important date! Come and join Alice as she enters the curiouser and curiouser world of the White Rabbit, Queen of Hearts and Mad Hatter. Suitable for all, especially 2 – 11 year olds, including children with special needs. Photo opportunity with dancers after every show!

The Haunted Man: A Dickens Winter Ghost Story
📅
Wednesday 31 October 2018
Lion Salt Works, Ollershaw Lane, Northwich CW9 6ES
Performance starts 7.30pm to 9.45pm.
Based on the classic Victorian story by Charles Dickens, Kindred Theatre's atmospheric new production of love and loss, frighteners and friendship is a blend of candlelight, shadows, music and theatrical storytelling, perfect for a spooky evening.
Suitable for ages 11+.
Supported by Cheshire Rural Touring Arts
Tickets £9 Under-17 £6.50 with family tickets available.
Book by phone through Lion Salt Works 01606 275066
Or online
www.ticketsource.co.uk/cheshireruraltouringarts
When The Light Goes Out
Crewe/Tatton Park
Commemorating WW1 through memories, performance and sound
Saturday 10 November | Crewe
Sunday 11 November | Tatton Park
4pm – 6pm FREE event (no booking required)
Two outdoor family arts events commemorating the First World War. The weekend will include; a street concert, parade, choirs, promenade performance and building projection created and inspired by the residents of Cheshire East and the roles their ancestors played in the Great War.
In the lead up to Armistice weekend, theatre makers Yet Another Carnival will collaborate with schools, societies, clubs, groups, and individuals to create a parade inspired by Crewe's 1918 Tank Week. And, a promenade performance for Tatton Park, which tells the Cheshire East story of the Great War.
Visual artists and video projection mapping specialists Illuminos, will lead a series of workshops with school groups, as well as drop-in family activity sessions at libraries, to create Keeping Watch – a large building projection artwork. Keeping Watch will see the facade of Tatton Park Manor become a timepiece; a portal back to 1918 through which packages and messages can pass.
A mass community choir will perform music inspired by WW1 at both events. In addition, silver and brass bands from the across the county will come together in Crewe's Memorial Square to take part in a street concert.
The programme will conclude with the extinguishing of the Commemorative Flame at Tatton Park on Sunday 11th November.
Local residents, participants and visitors are invited to attend these two nightfall events, which will take place in Crewe Town Centre on Saturday 10th November and at Tatton Park on Sunday 11th November 2018.
Aladdin - Family Pantomime
📅
30 November 2018 - 5 January 2019
Forum Studio Theatre, CH1 2BH
Aladdin is Tip Top's 10th pantomime here in the cosy Forum Studio Theatre. As regulars will know we have so much to offer the whole family.
Featuring everything you have come to love about the Tip Top pantomime...silly comic-this year he'll be Wishee Washee, a daft dame-this time she's Widow Twankey in an array of outrageous frocks, a pretty panda, custard pies, 'e's be'ind yer, even more lashings of audience participation…and oh...and you might recognise the odd joke or two!
The Wizard of Oz
Storyhouse's 2018 Christmas show!
📅
Friday 7 December 2018 - Sunday 6 January 2019
This Christmas, a major new stage production of the classic MGM musical motion picture, featuring all the favourite songs, including Somewhere Over The Rainbow and We're Off To See The Wizard.
Book early to guarantee your favourite seats at the best price.
www.storyhouse.com