The Brindley - Latest Brochure
Cheshire's Award Winning Theatre and Arts Centre.
The Brindley, High Street, Runcorn, Cheshire, WA7 1BG
Box Office Tel. 0151 907 8360
★
2019
(pdf)
★
thebrindley.org.uk
The Addams Family - Musical
📅
Thursday 24 - Saturday 26 October 2019
The Grange Theatre, Hartford, Cheshire CW8 1LU
Mid Cheshire Youth Theatre present: The Addams Family
Following their hugely successful production of "Joseph and the Amazing Technicolour Dreamcoat" last year, we are excited to bring you this fantastic musical comedy. A hilarious story, with a live orchestra and original score, The Addams Family features all of your favourites, Gomez, Morticia, Wednesday, Pugsley, Lurch and Uncle Fester, plus many many more.
The show guarantees to have you crying...with laughter and dancing in your seats! Full of brilliant songs, dances and inspired comic timing, this talented cast bring you a challenging show which guarantees not to disappoint!
Whether you are "Living, Dead, or Undecided" is there a better way to kick off Halloween? We look forward to seeing you there! Book now!
www.thegrangetheatre.com/boxofice | 01606 539040
Tickets: £15.00 (£10.00)
Tickets on sale now!
Storyhouse 2019
Halloween at Storyhouse Chester
Get the party started with
Disney Pixar's Coco (PG)
.
Suitable for all the family, complete with Halloween party before the film! Create and decorate your own spooky snacks, and create a creepy craft to take home!
31 October 2019, 3pm
Join us for a lock-in in The Garret as we celebrate the 15th Anniversary of Simon Pegg and Nick Frost's hilarious British Zom-Com classic
Shaun of the Dead (15)
. Mark the occasion the right way, pick up a Cornetto ice cream, head to The Garrett 'Pub' and wait for this all of this to blow over with a complimentary pint and packet of crisps.
31 October 2019, 6pm
The Evil Dead (18)
– the 1981 horror flick sets the mood for the night as the fog seeps in with an immersive 'cabin in the woods' experience. Enjoyed best with your complimentary spooky cocktail.
31 October 2019, 9pm
♫ Storyhouse is Chester's brand new cultural centre: theatre, cinema, library, studio theatre, restaurant, and bar housed in a rejuvenated 1930s art deco Odeon cinema. 🎟️
storyhouse.com
Pop Divas Live
📅
Thursday 31 October 2019
The Grange Theatre, Hartford, Cheshire CW8 1LU
Get ready for the best songs from all your favourite female stars in one fabulous fun-packed show. Little Mix will cast some Black Magic and Taylor Swift will Shake It Off as four enormously talented girls bring you up close and personal with the greatest female pop performers of today.
Meghan Trainor, Ariana Grande, Beyoncé and Rihanna will all be dropping in to the biggest Pop Party ever so make sure you're there!
With dazzling choreography, state of the art videos and superb vocals Pop Divas Live! is the perfect pop concert experience for the little divas in your life.
"My baby sister absolutely loved it. She got the chance to meet and dance on stage with them which was a dream come true. Thank you so much!"
"My 5 and 7 year old girls had the time of their lives! The length of the show was just right and we even got a picture at the end."
"Absolutely fantastically made. My daughter and I loved it! An excellent introduction for children who are too young to go to big concerts."
🎟️
thegrangetheatre.com/boxoffice
| 01606 539040
Tickets: £16.50
Film: Rocky Horror Picture Show
📅
Thursday 31 October 2019
The Grange Theatre, Hartford, Cheshire CW8 1LU
The Grange Theatre presents a film screening of; Rocky Horror Picture Show
On a wild and rain-swept late-November evening, somewhere at an empty stretch of road outside Ohio's merry Denton, the blissfully-affianced, prudish, and boringly innocent young pair of Brad Majors and Janet Weiss find themselves stranded on their way to visit an ex-tutor.
Instead, the couple will inadvertently unearth the cross-dressing Dr Frank-N-Furter's spooky lair of inexhaustible oddities, just in time to partake in the out-of-this-world mad scientist's proud unveiling of his latest, delightfully extravagant, and most daring creation--the ultimate male and the perfect sex symbol: the flaxen-haired, Rocky Horror.
But, little by little, as the effervescent transgressive force gobbles up whole the unsuspecting visitors of the night, Brad and Janet slowly begin to embrace the potent fascinations of seduction, while an idolised Rocky roams free in the mansion. Who can interrupt man's union with the absolute pleasure?
Tickets
| 01606 539040
Tickets: £8.50
Blood Brothers
📅
Tuesday 5 - Saturday 9 November 2019
Crewe Lyceum Theatre
Written by Willy Russell, the legendary BLOOD BROTHERS tells the captivating and moving tale of twins who, separated at birth, grow up on opposite sides of the tracks, only to meet again with fateful consequences.
Few musicals have received quite such acclaim as the multi-award winning BLOOD BROTHERS. Bill Kenwright's production surpassed 10,000 performances in London's West End, one of only three musicals ever to achieve that milestone. It has been affectionately christened the 'Standing Ovation Musical', as inevitably it "brings the audience cheering to its feet and roaring its approval" (The Daily Mail).
The superb score includes Bright New Day, Marilyn Monroe and the emotionally charged hit Tell Me It's Not True.
Nigel Slater's Toast - Crewe Lyceum Theatre
📅
Tuesday 3 - Saturday 7 December 2019
PW Productions and Karl Sydow present the Lowry Production of
Nigel Slater's Toast
DIRECT FROM THE WEST END…
Toast vividly recreates Nigel Slater's childhood through the tastes and smells he shares with his mother, culminating in the young Nigel's escape to London. From making the perfect sherry trifle, through the playground politics of sweets, the rigid rules of restaurant dining, and a domestic war over cakes, this is a moving and evocative tale of love, loss and…toast.
Peter Pan
📅
6 December 2019 - 12 January 2020
Coming to Storyhouse this Christmas. Journey to Neverland for a high-flying adventure you'll never forget. The forever-young Peter Pan sails through the skies to bring Wendy and the Darling children to the Lost Children's enchanted island where the fearsome Captain Hook rules over the high seas. Based on the timeless book by JM Barrie.
Dreams can come true, if you only wish hard enough!
🎟️
www.storyhouse.com
Peter Pan - Crewe Lyceum Theatre
📅
13 December 2019 - 5 January 2020
Crewe's swashbuckling 2019 pantomime is the high-flying pirate adventure, Peter Pan, starring comedy legends Cannon & Ball.
Tommy and Bobby return by popular demand for a fairy tale flight to Neverland this Christmas! Experience a swashbuckling family adventure as the Jolly Roger navigates the perilous high seas and throws anchor for another unmissable festive season at the Lyceum.
Join our high-flying hero as he transports the Darlings on an adventure they will never forget, packed full of evil pirates, Lost Boys, a very hungry crocodile and the meanest man in Neverland, Captain Hook.
With star casting, jaw-dropping flying and special effects, barrel-loads of laughter, a ship-full of magic and fairy dust and plenty of festive fun for all the family, Hook your tickets today!!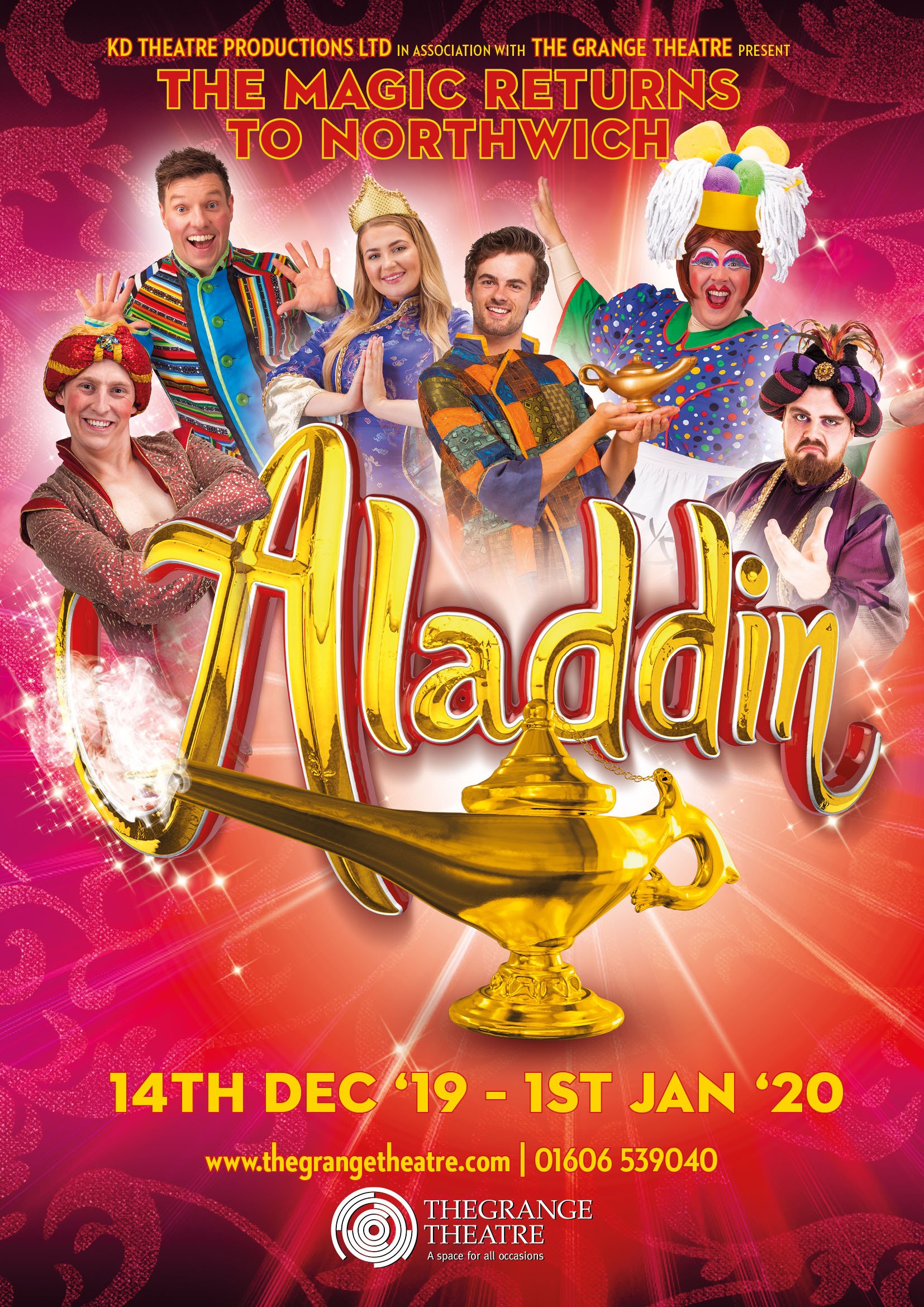 Aladdin - Pantomime
📅
14 December 2019 - 1 January 2020
The Grange Theatre, Hartford, Cheshire CW8 1LU
KD Theatre Productions returns this Christmas to present the venues 11th professional pantomime: 'Aladdin'
Join us on a magical carpet ride all the way to Peking for this year's spectacular pantomime 'ALADDIN' at The Grange Theatre starring Grange Theatre favourites Rob Stevens as Widow Twankey and Oliver Scott as Wishee Washee
Featuring our exciting blend of live music, quality professional performers, stunning sets, lavish costumes and bags of comedy, The Grange Theatre is the home of family pantomime in Northwich this Christmas.
If you have one wish this Christmas – make it to see Aladdin at The Grange Theatre
Tickets
| 01606 539040
Ticket on sale now!