To celebrate the return of live performance Storyhouse has an exciting season of shows – music, drama, comedy, dance and more.
♫ Storyhouse is Chester's brand new cultural centre: theatre, cinema, library, studio theatre, restaurant, and bar housed in a rejuvenated 1930s art deco Odeon cinema. 🎟️
storyhouse.com
The Brindley
Cheshire's Award Winning Theatre and Arts Centre.
The Brindley, High Street, Runcorn, Cheshire, WA7 1BG
Box Office Tel. 0151 907 8360
★
thebrindley.org.uk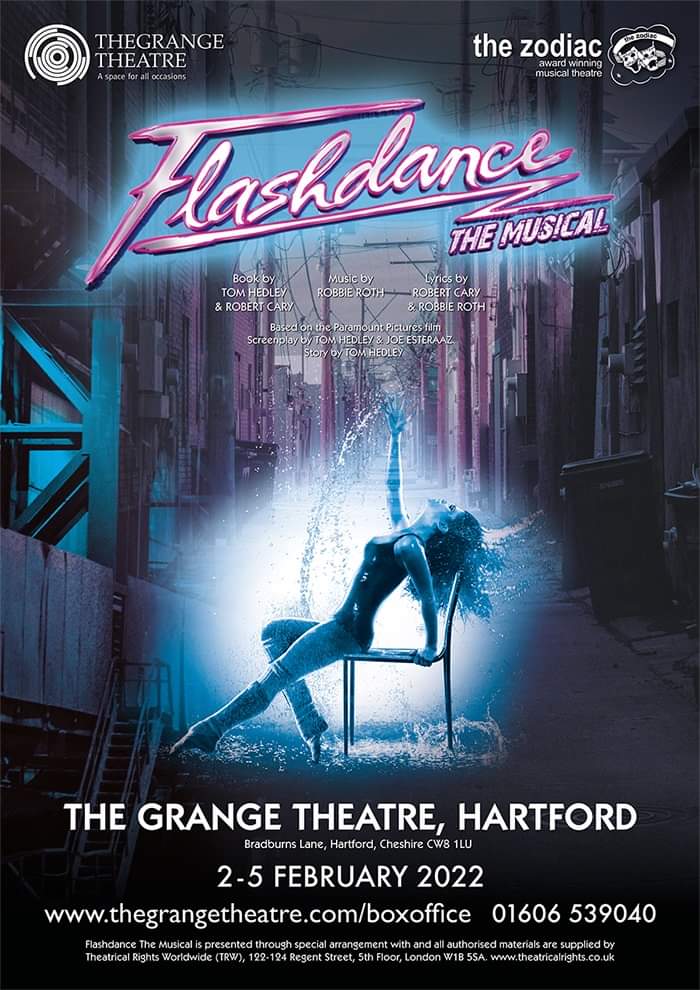 Flashdance The Musical
Wednesday 2 - Saturday 5 February 2022
The Grange Theatre, Hartford
Dance like you've never danced before! Flashdance The Musical tells the inspiring and unforgettable story of 18 year-old Alex, a welder by day and "flashdancer" by night, who dreams of going to the prestigious Shipley Dance Academy and becoming a professional dancer. When a romance complicates her ambitions, she harnesses it to drive her dream.
Based on the Paramount Pictures film (Screenplay by Tom Hedley and Joe Eszterhas, story by Tom Hedley), this is an inspiring musical about the power of holding onto your dreams and love against all the odds. The iconic score features the best-selling hits "Maniac," "Manhunt," "Gloria," "I Love Rock & Roll" and the sensational title track "Flashdance…What a Feeling."
Flashdance The Musical
Wed 2 Feb 2022, 7:30PM
The Grange Theatre, Hartford
Buy Tickets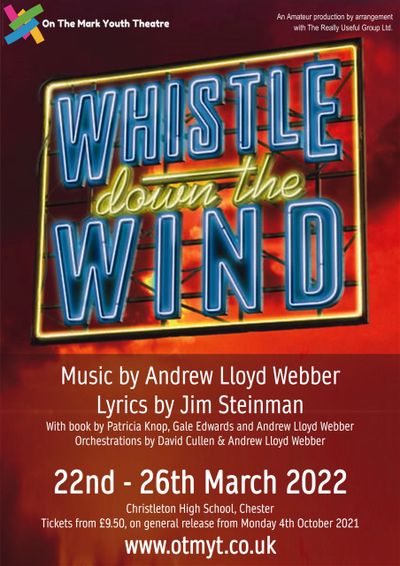 Whistle Down The Wind
Tuesday 22 - Saturday 26 March 2022
Christleton High School
On The Mark Youth Theatre along with an adult cast and a live orchestra of 14 players, present the hit Andrew Lloyd-Webber musical in March 2022.
Whistle Down The Wind revolves around the time and place where the word teenager was invented. Swallow, a 15 year-old-girl growing up in America's deep South in the fifties, discovers a mysterious man hiding out in a barn. When she asks who he is and the first words he utters are "Jesus Christ," it's as if all her prayers have been answered.
Swallow and the town's other children vow to protect the stranger from the world that waits outside—the townspeople who are determined to catch a fugitive hiding in their midst. As fantasy and reality collide, Swallow is torn between the two and begins to discover who she is and where she is going.
Andrew Lloyd Webber's emotive score combines hauntingly beautiful love songs and explosive rock music, with lyrics by acclaimed Meat Loaf and Bonnie Tyler songwriter Jim Steinman. It features "No Matter What," which was covered by Boyzone, hitting number one in 18 countries.
Whistle Down the Wind contrasts the relentless influence of the modern world with the traditional values of the old days—something which the community at its heart yearns to return to.
Tickets
7 Things I've Learned: An Evening With Ira Glass
Tuesday 29 March 2022
Storyhouse, Chester
Ira Glass is the creator, producer & host of This American Life, the iconic weekly public radio program with millions of listeners around the world. Using audio clips, music, and video, Ira Glass delivers a unique talk; sharing lessons from his life and career in storytelling: What inspires him to create? What drives his passion? How have failures and successes informed his decisions? Ira Glass will mix stories live onstage and help his audience better follow the creative process of one of our foremost storytellers.
Kendal Mountain Tour - Chester
Wednesday 6 April 2022
Storyhouse
Unleash your adventurous side…
Join us for an evening of film and talks celebrating adventure from some of the most spectacular places on earth, brought to you by the team behind Kendal Mountain Festival. You'll be guided through a curation of stories from across the globe, told by a unique collection of films from travellers, athletes, activists and creatives.
The evening will be hosted by the Kendal Mountain Presenting Team, as well as on-screen interviews with the filmmakers themselves. We will also welcome back fantastic Adventure Speakers to inspire you with their latest endeavours!
Kendal Mountain Festival is the ultimate social gathering for outdoor enthusiasts – with a world-class programme of films and talks from international adventurers taking place on the edge of the Lake District each year.
Visit
kendalmountaintour.com
for more information.