The Brindley - Latest Brochure
Winter 2018/2019
(pdf)
Cheshire's Award Winning Theatre and Arts Centre.
The Brindley, High Street, Runcorn, Cheshire, WA7 1BG
Box Office Tel. 0151 907 8360
★
thebrindley.org.uk
When The Light Goes Out
Crewe/Tatton Park
Commemorating WW1 through memories, performance and sound
Saturday 10 November | Crewe
Sunday 11 November | Tatton Park
4pm – 6pm FREE event (no booking required)
Two outdoor family arts events commemorating the First World War. The weekend will include; a street concert, parade, choirs, promenade performance and building projection created and inspired by the residents of Cheshire East and the roles their ancestors played in the Great War.
In the lead up to Armistice weekend, theatre makers Yet Another Carnival will collaborate with schools, societies, clubs, groups, and individuals to create a parade inspired by Crewe's 1918 Tank Week. And, a promenade performance for Tatton Park, which tells the Cheshire East story of the Great War.
Visual artists and video projection mapping specialists Illuminos, will lead a series of workshops with school groups, as well as drop-in family activity sessions at libraries, to create Keeping Watch – a large building projection artwork. Keeping Watch will see the facade of Tatton Park Manor become a timepiece; a portal back to 1918 through which packages and messages can pass.
A mass community choir will perform music inspired by WW1 at both events. In addition, silver and brass bands from the across the county will come together in Crewe's Memorial Square to take part in a street concert.
The programme will conclude with the extinguishing of the Commemorative Flame at Tatton Park on Sunday 11th November.
Local residents, participants and visitors are invited to attend these two nightfall events, which will take place in Crewe Town Centre on Saturday 10th November and at Tatton Park on Sunday 11th November 2018.
RENT, The Musical
📅
Tuesday 20 - Saturday 24 November 2018
Christleton High School
The Broadway hit musical, based on Puccini's beloved opera La Boheme, Rent follows the ups and downs of a year in the life of a group of impoverished, artistic friends living in Manhattan's East Village. Mark, an aspiring filmmaker, struggles to find his place in the world; his roommate Roger, an HIV-positive musician, wonders how he will leave his mark before he dies. Mimi and Angel look for true love as they face the harsh reality of life as HIV-positive young people, while the business-like Joanne seeks fidelity from her wild-child performance artist girlfriend Maureen. The group's dreams, losses, and love stories weave through the musical's narration to paint a stunningly raw and emotional portrait of the gritty bohemian world of New York City in the late 1980s, under the shadow of HIV/AIDS.
PARENTAL GUIDANCE IS ADVISED AS THE MATURE THEMES OF THE SHOW ARE NOT SUITABLE FOR YOUNGER CHILDREN.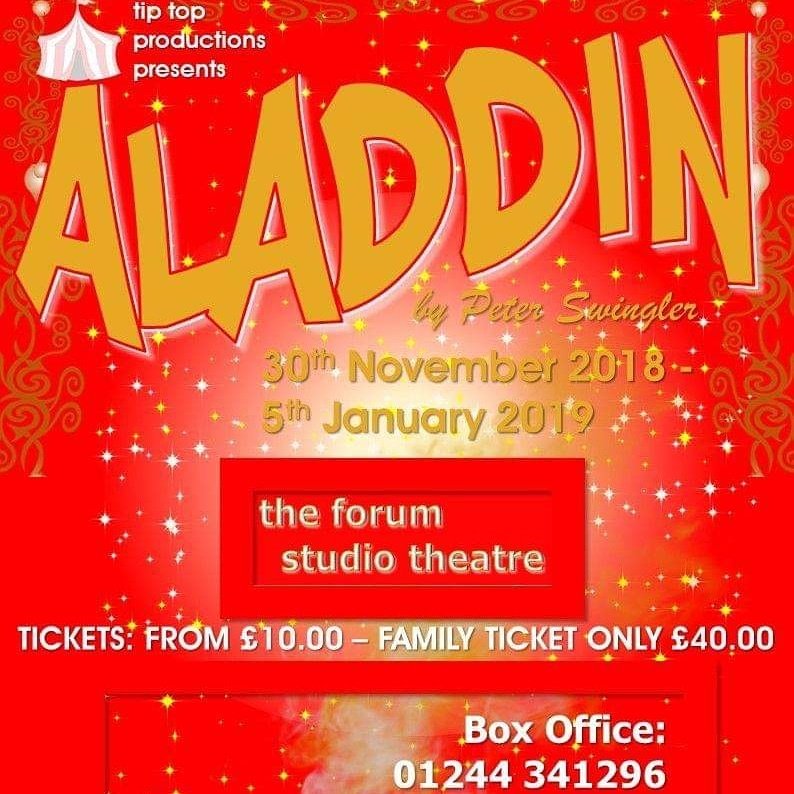 Aladdin - Family Pantomime
📅
30 November 2018 - 5 January 2019
Forum Studio Theatre, CH1 2BH
Aladdin is Tip Top's 10th pantomime here in the cosy Forum Studio Theatre. As regulars will know we have so much to offer the whole family.
Featuring everything you have come to love about the Tip Top pantomime...silly comic-this year he'll be Wishee Washee, a daft dame-this time she's Widow Twankey in an array of outrageous frocks, a pretty panda, custard pies, 'e's be'ind yer, even more lashings of audience participation…and oh...and you might recognise the odd joke or two!
The Wizard of Oz
Storyhouse's 2018 Christmas show!
📅
Friday 7 December 2018 - Sunday 6 January 2019
This Christmas, a major new stage production of the classic MGM musical motion picture, featuring all the favourite songs, including Somewhere Over The Rainbow and We're Off To See The Wizard.
Book early to guarantee your favourite seats at the best price.
♫ Storyhouse is Chester's brand new cultural centre: theatre, cinema, library, studio theatre, restaurant, and bar housed in a rejuvenated 1930s art deco Odeon cinema.
www.storyhouse.com
Dick Whittington - Pantomime
📅
17 December 2018 - 1 January 2019
The Grange Theatre, Hartford, Cheshire CW8 1LU
🎅 Following on from their highly successful second season at The Grange Theatre, KD Theatre Productions return this Christmas to present the venues 10th professional pantomime: Dick Whittington
Dick Whittington is a poor boy who has travelled to London to seek his fame and fortune. He has been told that "The streets are paved with gold". He arrives penniless, and without a friend in the world.
Panto stars include Rob Stevens as Dame Sarah Fitzwarren and Oliver Scott as Idle Jack, both returning to Hartford for their third year.Rory McCollum plays Dick Whittington, Annabelle Davies is Alice Fitzwarren, Oliver Tattersfield is King Rat and Grace Thorne plays Fairy Bowbells. (thegrangetheatre.com)