The Chester Tour
The perfect way to start any visit to Chester, your Guide will lead you on a captivating journey through 2000 years of history, taking in all the main sites along the way, including the Rows, Walls, River and the Cathedral. Be enthralled by the tales and anecdotes of those who have contributed to the rich heritage of this much-loved city, beginning in Roman times, through the vibrant Medieval expansion period, the desperation of the Civil War, the Georgian elegance and the Victorian revival, right up to the present day.
All tours depart throughout the year from the Town Hall Visitor Information Centre and are approximately 90 minutes in duration.
More Tours:
Learn more about Roman Chester
www.busybus.co.uk
Curious About Chester
Chester City Centre, Starting: Chester Castle
Have fun discovering Chester with two, quirky, heritage walks with an optional treasure hunt. Buy in booklet or instant download format.
Are you curious about Chester? Looking for an unusual and quirky activity which gets you out in the fresh air whatever the weather? Take one of our self-guided walks with a treasure hunt theme – looping around the better-known sights, as well as some of the more unusual and quirky ones, which combined make Chester a fascinating place to explore!
You'll get everything – detailed directions, maps, clues (with answers in the back!), and interesting snippets about the history of the city and the people that have shaped it.
Buy in booklet or instant download format (to use immediately on your mobile device or to print at home) and explore in your own time. One booklet is enough for four people of all ages to enjoy.
Enter code Press20 at checkout for a 20% discount on spend over £12
Be Curious!
curiousabout.co.uk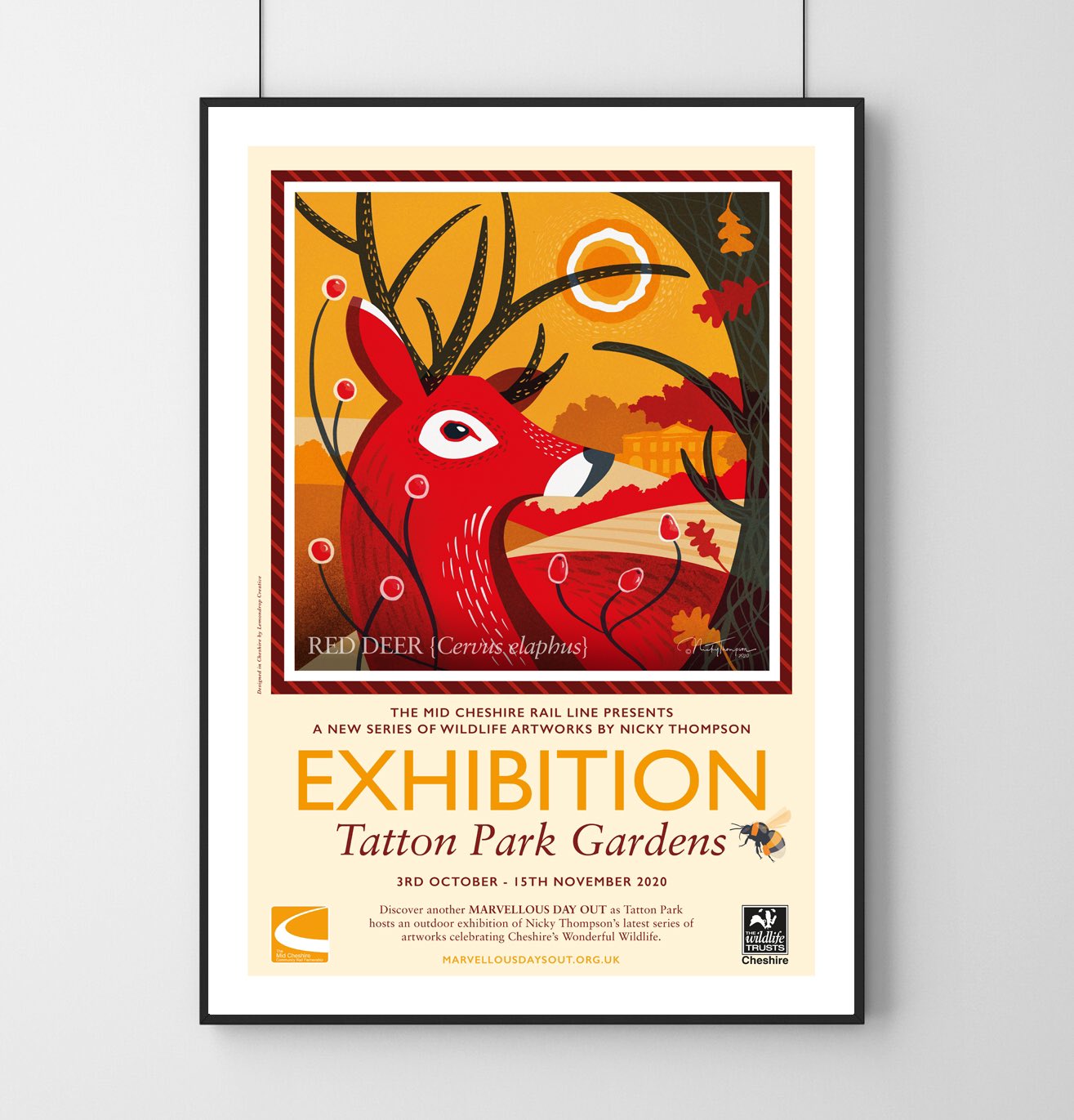 Gallery in the Gardens
Cheshire's Wonderful Wildlife
3 October - 15 November 2020
Visit the Gardens and view the new Mid Cheshire Line poster artwork, created by local artist Nicky Thompson.
This project is funded by the Mid Cheshire Community Rail Partnership and we're delighted to host this exhibition for all Garden visitors to enjoy. Look out for the special piece Nicky has created for Tatton Park! Each poster artwork depicts an animal in Nicky's characteristic style, all of which are native species to Mid Cheshire.
"Although this series is essentially 'platform art' and will be displayed across the Mid Cheshire Line, I am really excited to see them in the stunning gardens at Tatton Park... I really can't think of a more picture-perfect 'gallery'."
Nicky Thompson
Artwork will be displayed throughout the Gardens.
Follow a route around our Gardens to see all 12 poster designs. Areas included in the exhibition are the Walled Kitchen Garden, Charlotte's Gazebo, Dipping Pond, the Choragic Monument, Japanese Garden and Italian Terrace. There will also be a 24-page brochure accompanying the exhibition, written by the Cheshire Wildlife Trust, available free of charge.
To visit the exhibition, simply book your Garden tickets online and select a date between 3 October and 15 November and select a timed entry slot.
tattonpark.org.uk